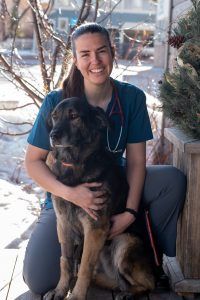 For as long as she can remember, Eva has wanted to practice veterinary medicine. During her childhood, she was surrounded by animals on the family farm and loved taking care of the cows, horses, goats and chickens. As a child, one incident left quite an impression on her; her family's dog was kicked by a horse and required emergency surgery with their local veterinarian. Eva did a school project on the dramatic episode and came away with a deep appreciation for the veterinary profession.
In 2017, after graduating from Washington State University with a Doctorate in Veterinary Medicine, Eva took a position at a small animal hospital outside of Portland, Oregon and spent three years there building on her medical knowledge from school. She found she preferred a personal approach to her practice of medicine by making meaningful connections with her patients and their families. Eva is passionate about the power of preventative medicine, emphasizing healthy lifestyle choices for her patients. She also takes a multi-modal approach to ensure their health, which includes a balanced diet, consistent exercise, and the implementation of both western and eastern medicine when needed.
At Jackson Animal Hospital, Eva appreciates the quality of medicine that is provided to our patients through our positive and collaborative staff environment. She loves the well-rounded approach provided by a team that is trained in preventative and emergency medicine, enabling us to provide the utmost quality care for the furry family members of our community.In 2010, Dr. Wienman attended the University of Illinois's College of Veterinary Medicine. While in vet school, he also began a concurrent master's degree in public health through the University of Illinois at Chicago. During his final year in vet school, Dr. Wienman completed multiple veterinary school externships out west – including several weeks at Fish Creek Veterinary Clinic in Wilson, WY, the USDA in Fort Collins, CO, and the Oregon State Department of Fish and Wildlife in Corvallis, OR.
When she is not hard at work, Eva teaches fitness classes and enjoys practicing yoga. She thrives on nature and travel, and loves to hike and camp with her dog, Porter, and her cat (yes, cat), Fuzz.