Juliana Bell – Certified Veterinary Technician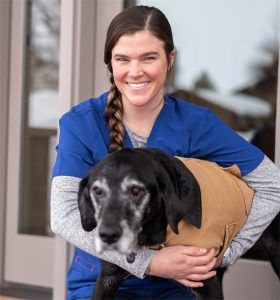 Juliana is a recent graduate from the Pima Medical Institute's Veterinary Technician program in Dillon, Montana. Her love of animals started at a young age, and she was known for bringing home stray kittens and nursing them back to health. In 2016 she spent six months in Phalaborwa, South Africa, volunteering for a baboon sanctuary. It was here that she fell more in love with the rehabilitation of animals and wanted to pursue a career as a veterinary technician.
Juliana, also known as "Jules", was hired at Jackson Animal Hospital shortly after her graduation in 2018 and has been an invaluable asset. She is an excellent technician and her bubbly attitude makes it enjoyable to work with her. When not at work, Jules enjoys pet sitting for clients and is available for overnight stays. Aside from the outdoor sports that she loves to do, snowboarding, biking and hiking, Jules' favorite past time is spending time with her loving canine companion, Gus, and her two cats Ennis and Jack Twist.