Laura Hershberg - Assistant VetTech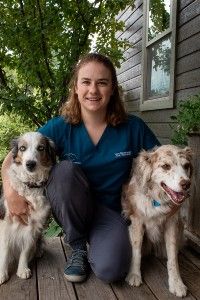 Lara Hershberg is a prospective veterinary student who grew up in Jackson, Wyoming. She has a bachelor's degree in Wildlife Biology from the University of Montana and is currently attending the University of Wyoming to get a few prerequisites for vet school completed. Her goal is to attend Colorado State University to become a wildlife veterinarian.
From a young age, Lara pushed to have animals around the house. Her family started off with just two outdoor rabbits, but by the time she graduated from high school her family had four horses and two dogs, Rosie and Merlynn. Lara loves working with animals and most of her previous employment has involved animals, including working at Dog Jax, a local boarding facility, throughout high school. Lara also volunteered for the Wind River Bear Institute, an organization that trains dogs to help manage bears, through college and she spent the winter of 2018-2019 working in Alaska as a dog handler for an Iditarod musher.
Growing up in Jackson, Lara took advantage of the outdoor opportunities available to her. She enjoys snowboarding and skijoring in the winter and horseback riding and hiking in the summer.