Lisa Ruschill – Receptionist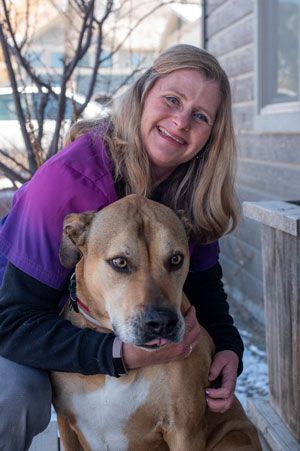 Lisa is a South Dakota native and grew up on a small ranch that raised horses for showing and racing. At a young age, Lisa started competing with her horses in local gymkhanas, 4-H competitions and National High School Rodeos – thereby discovering one of her life's passions.
After high school, Lisa attended the University of Minnesota and received an AAS degree in Equine Science. Due to her love for animals, she decided to continue her education at Eastern Wyoming College in Torrington, Wyoming and received another AAS degree in Veterinary Technology. In 1995, Lisa moved to Jackson and worked at Jackson Hole Veterinary Clinic as a veterinary technician. She also volunteered for Jackson Hole Therapeutic Riding as an instructor and horse wrangler.
Over the last 22 years, Lisa has worked at St. John's Hospital as well Teton Eye Clinic. When the doctor she worked for retired, Lisa came to Jackson Animal Hospital bringing years of medical experience with her. In her new job, Lisa has enjoyed getting back to her true love of working with animals.
Lisa and her husband, Russ, currently live in Star Valley with their 5 horses, dog, and cat. During the summer months, both Russ and Lisa can be found on the town square riding their horses as long-standing members of the Jackson Mounted Unit.