Melisa Molina – Receptionist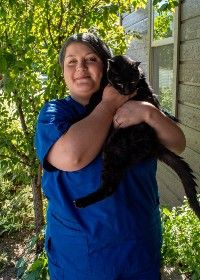 Melisa Molina was born and raised in Boise, Idaho. In 2015, she decided to move to Jackson, Wyoming for a job opportunity and has been in the area for the last six years. Melisa enjoys the mountains and loves the small-town features of Jackson. She is the proud parent of her six-year-old daughter, Sophie, who always keeps her on her toes.
Melissa recently bought a house down in star valley ranch last year and enjoys her new neighborhood. In 2021, Melissa left a career in banking to pursue her passion for animals. Melissa loves all animals and is really enjoying working at Jackson Animal Hospital; it is her ambition to learn as much as she can about animals and make veterinary medicine her new career path.
In her spare time, Melisa loves camping, fishing and visiting with her family.