Mike Nelson – Receptionist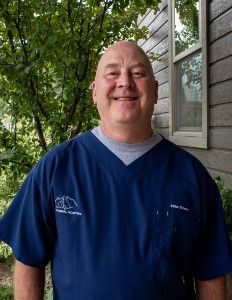 Mike Nelson grew up in Casper, Wyoming and always had an appreciation and love of nature and the outdoors, especially the greater Yellowstone ecosystem. A desire to live in the area persisted over the years and, after 28 years of working in design and test engineering for a worldwide silicon chip company in Phoenix Arizona, Mike left his job in 2010 and moved to Driggs, Idaho.
In 2012, a big year for Mike, he met Sanford, his beloved dog, at the Driggs Animal Shelter, where Sanford promptly chose him. Shortly after, Mike and Sanford moved to Jackson. Mike began working again but this time in the grocery industry, becoming easily recognized by locals for his charm and attention to detail. Mike also met Dr. Carleton that year.
In early May, 2021 Mike received a call that happily brought him to Jackson Animal Hospital. Mike has been a wonderful addition to the front desk. His good nature and love of animals is a pleasure to be around and he is always the first to volunteer for anything that needs to be done. If you have a question, Mike is the man to ask!
In Mike's spare time, he and Sanford enjoy hiking, tent camping, and working in their garden; and of course sharing ribeye steaks is also a favorite. When Sanford's amazing life is brought up Mike says "I don't spoil Sanford, I just give him the life I feel he deserves".