Victor Garcia Esquival – Receptionist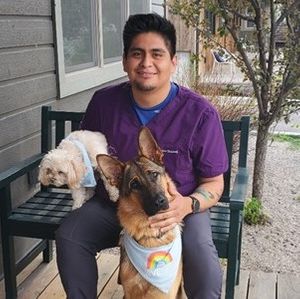 Victor Garcia Esquival was born in Mexico City, and moved to Houston, Texas at the age of four. Victor credits growing up in Houston for being fluent in English as well as his mastery of a wide range of Spanish dialects. Growing up, Victor was known for finding any opportunity he could for volunteering; spending his summers helping Alzheimer/Dementia patients at their assisted living facility, as well as translating for advocacy groups.
Victor's passion does not end with just two-legged creatures. Growing up, he would tune into animal planet as often as possible to watch the newest wild-life documentary films. His passion to work with animals was reignited when he volunteered with the ASPCA after Hurricane Harvey hit in 2017.
Victor has been an excellent addition to the front desk. He is kind, knowledgeable and excels at computer related tasks. He is also bilingual which is a tremendous help for our Spanish speaking clients. When not working, Victor is passionate about spending time with their four-legged daughter, Chloé.