Dr. Heather T. Carleton, DVM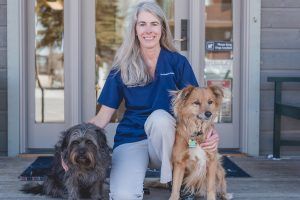 Dr. Heather Carleton first moved to Jackson, Wyoming, in 1989 to work at a guest ranch and soon realized that the west was where she wanted to spend the rest of her life. Instead of returning to the east coast for college, she decided to pursue her undergraduate degree at the University of Montana in Missoula. In 1995, she graduated with a B.A. in Zoology and English Literature and spent the next summer working as a naturalist in Grand Teton National Park. She returned to Jackson in 2007 to work as a small animal veterinarian at Spring Creek Animal Hospital.
In 2001, Dr. Carleton graduated from Colorado State University's veterinary school; she then continued on with an equine medical and surgical internship in Bend, Oregon, that was completed the next year. Following her internship, Heather moved back to Montana and worked in a mixed animal practice that saw everything from emus to bison, as well as a lot of cats and dogs. In 2004, she and ten other veterinarians started a small animal emergency clinic in Missoula where she honed her skills in critical care medicine and was fortunate enough to work alongside Dr. David Bostwick, an internal medicine specialist in the area.
In 2005, Dr. Carleton returned to Vermont to spend some time with her family. While there, she worked in a progressive, five doctor small animal clinic where she developed a special interest in dentistry. In her spare time, she volunteered weekly at the local Humane Society and helped to develop protocols to prevent the spread of disease within the shelter. She also donated her time to perform free neuters for the 70+ cats at the shelter and started the "homeward bound fund" to help sponsor cats who were in desperate need of homes
In 2008, Dr. Carleton spent her winter vacation volunteering in Asia to help Soi Dog, a non-profit organization dedicated to saving the street dogs of Thailand. She went back in 2009 and has since volunteered at Soi Dog as often as her vacations will allow. In 2010, the Humane Society International sponsored Dr. Carleton to travel to Bhutan to assist with their countrywide spay/neuter task force – an effort that culminated in over 50,000 surgeries being performed in a three-year period.
Locally, Dr. Carleton spent 8 years on the board of the Animal Adoption Center in Jackson, Wyoming, and still donates a large amount of her free time to helping the Center. In 2009, after being inspired by the work being done in Asia, Dr. Carleton founded the Spay/Neuter Wyoming program for low income families in need of assistance. To date, over 18,000 dogs and cats have been altered – which in turn has helped to decrease the number of animals euthanized each year in Wyoming's over-crowded shelters by up to 90% in some towns. Dr. Carleton also dedicates her time to the Teton Raptor Center as a medical consultant and performs surgical repairs, when possible, on injured raptors.
In 2014, Dr. Carleton left Spring Creek Animal Hospital to pursue an opportunity to start her own practice. She entered into a partnership with Dr. Randy Acker, a renowned orthopedic surgeon and owner of Sun Valley Animal Center, to create a new veterinary hospital in Jackson – the Jackson Animal Hospital. The goals of the new hospital have been to offer exceptional veterinary services and customized patient care for all of the beloved pets of Jackson and our surrounding towns. In 2016, Dr. Carleton was named Citizen of the Year by the Jackson Hole Chamber of Commerce for her efforts to help shelter animals and for her work on the Wind River Indian Reservation, helping both residents and pets in need. In 2017, she received Employer of the Year from CES – a local non-profit that helps improve the lives of individuals with disabilities.
Dr. Carleton is the proud parent of Mah Di, a three-legged Thai dog who traveled back with her after her first visit to Asia, as well as Ozzie the terrier and Koda, a shelter rescue that needed both his hips replaced due to severe hip dysplasia. The household also includes 3 cats, 3 horses, and 8 chickens- and her very tolerant husband, Jerry.
"The only vet for me and my four doggies!!! Absolutely love Heather and everything she does for my "kids"!"
– Candace Woodbury