Digital Radiography and Ultrasound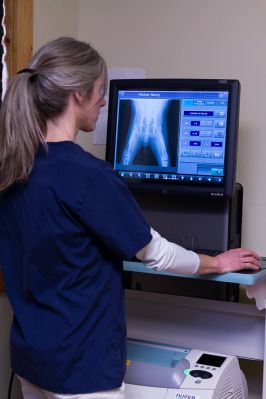 Radiography
Jackson Animal Hospital is equipped with state of the art digital Radiography. This technology greatly enhances our ability to diagnose a wide spectrum of abnormalities from orthopedic injuries to soft tissue disease. With our Telemedicine connection to Idexx laboratories, radiographs taken at our hospital can be evaluated by Board Certified Radiologists in a matter of hours if necessary.
Ultrasound
Ultrasound imaging, also called sonography, is a form of radiology that creates images from inside your pet's body through the use of high-frequency sound waves. These reflected soundwaves (echos) are recorded and displayed as a real-time visual image. Many of your pet's internal organs, including the heart, liver, spleen, pancreas, kidneys and bladder are examined by the use of ultrasound. This procedure is very helpful as it allows our veterinarians to see movement of internal tissues and organs, as well as blood flow.
Ultrasound can aid in the diagnosis of many different conditions including neoplasia, pancreatitis, hepatic disease, splenic tumors, bladder stones, and heart and pulmonary disease. Other procedures performed through ultrasound include confirmation of pregnancy, ultrasound-guided biopsies, abdominocentesis and removal of pleural and pericardial fluid.
At Jackson Animal Hospital we have access to an exceptional Board Certified Radiologist who specializes in ultrasonography and has been practicing for over 20 years. Appointments can be made for full abdominal scans, consults and second opinions through our front desk.
CT Scan and MRI
Computed Tomography (CT) and Magnetic Resonance Imaging (MRI) capabilities are available through Jackson Animal Hospital as a result of our partnership with St Johns Medical Center. Clinical applications include middle and inner ear evaluation, fracture identification in skull trauma, precise detection of musculoskeletal soft tissue injuries, brain scans, and further evaluation of spinal cord lesions that can be caused by herniated discs, genetic malformations, tumors or fibrocartilaginous emboli.
PENNHIP
Penn-HIP, owned and operated by the University of Pennsylvania, incorporates a method for evaluating the integrity of the canine hip using multiple disciplines including biomechanics, orthopedics, clinical medicine, radiology, epidemiology and population genetics. The purpose of the program is to direct appropriate breeding strategies aimed at reducing the frequency and severity of osteoarthritis and hip dysplasia in canines. The program was developed based on more than a decade of research and analysis which has produced a body of information in support of Penn-HIP's effectiveness.