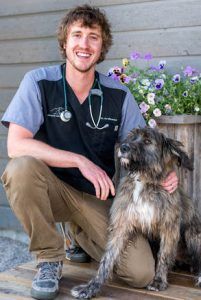 Joe Wienman first came to Jackson in 2010 to enjoy the ample outdoor recreation of the area. Because of his enthusiasm for hiking, biking, and skiing, it was Dr. Wienman's hope to one day practice in the western United States. He has now been with Jackson Animal Hospital since 2016 and became a partner at the clinic in 2018.
Dr. Wienman attended Butler University (GO DAWGS!) in Indianapolis for his undergraduate work and majored in both biology and Spanish. With a strong interest in ecology and wildlife, he was fascinated with animals (both wild and domestic) and their interrelations with humans.
In 2010, Dr. Wienman attended the University of Illinois's College of Veterinary Medicine. While in vet school, he also began a concurrent master's degree in public health through the University of Illinois at Chicago. During his final year in vet school, Dr. Wienman completed multiple veterinary school externships out west – including several weeks at Fish Creek Veterinary Clinic in Wilson, WY, the USDA in Fort Collins, CO, and the Oregon State Department of Fish and Wildlife in Corvallis, OR.
After graduation in 2014, he joined a progressive, multi-doctor small animal practice in Bloomington, Indiana. Here, he developed a keen interest in small animal internal medicine and surgery. While in practice, he continued to pursue coursework to complete his master's degree in public health. In June 2016, Dr. Wienman accepted the opportunity to join Dr. Carleton and the rest of the team at Jackson Animal Hospital. After only two years, it was apparent that the hospital was a great fit for him and he was offered the opportunity to buy into the practice; which he gladly accepted.
When he is not in the office, you may run into Dr. Wienman on various mountain biking and hiking trails in the area with his wife, Kate, and his two dogs, Taggart and Bivvy. Since living in Jackson, Dr. Wienman has also welcomed another, non-furry critter to the family – a son named Finn. When not outdoors, Dr. Wienman enjoys brewing beer, roasting coffee, drinking the aforementioned beverages, and a competitive game of cards. He is proud to call Jackson his home and he hopes to continue making this community an even better place for pets and pet-owners.