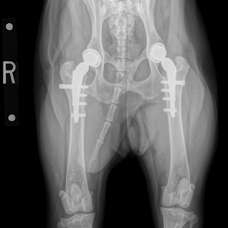 For Total Hip Replacement (THR) in dogs, two types of surgical systems are utilized – cemented and cementless.
In the cemented technique, bone cement is relied on to provide fixation of the prothesis to the femur bone.
In the cementless system, KYON (Greek for dog), fixation is achieved by bone in-growth. This cementless rigid fixation of the femoral component is complemented by in-growth from the adjacent bone. This state of the art surgical procedure was developed in Zurich, Switzerland by Slobodan Tepic, Dr. Sci., School of Veterinary Medicine, University of Zurich.
Dr. Acker is certified to instruct Total Hip Replacement (THR) courses by the Registry of Approved Continuing Education, (RACE) program of the American Association of Veterinary State Boards, (AAVSB).
The KYON total hip replacement prothesis for dogs, (locking plate and screw system) has shown clear biologic advantages by providing a more rigid stabilization, through bone growth into the implant, and improving long-term stability and a quicker recovery.
If you believe your dog may need a hip replacement, a consult for the surgery can be performed here at Jackson Animal Hospital with Dr. Randy Acker. During the consult, your pet will be thoroughly examined, radiographed and any and all questions will be answered about the procedure and whether or not your pet would be a good candidate.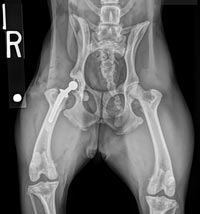 Micro Hip Replacement
Six years of clinical development and five years of broad clinical use with 3,000 cases, including a four-year multi-center clinical study, lend solid support for this new concept of Total Hip Replacement anchorage. One hundred veterinary surgeons worldwide, 50 of which are in the U.S., are now performing this procedure.Until recently Total Hip Replacement (THR) was only available for large breed dogs such as labs. Now, through systems developed by BioMedtrix, two new procedures make this prosthesis available to smaller breeds.The CFX Micro Hip System is now available for breeds such as Jack Russells and French Bulldogs, while the CFX Nano Hip System is designed for smaller dogs such as Pomeranians, Yorkshire Terriers (and even cats).
Dr. Randy Acker is now performing both of these procedures as well as THR for larger dogs.