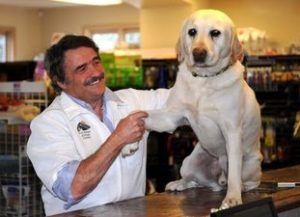 After graduating from Colorado State University in 1979, Dr. Randy Acker moved to Sun Valley, Idaho and became the owner of the Sun Valley Animal Center. Dr. Acker's focus has been in canine surgery with an emphasis on canine orthopedics. Through attending approved surgical courses, and a 40-year career as a veterinarian, Dr. Acker has obtained the skills to achieve excellence in orthopedic surgeries. Courses attended by Dr. Acker include cruciate ligament repair (TPLO, TTA, and others), hip replacement (BioMedtrix, Kyon, Micro and Nano Hip Systems), bone plating, arthroscopy, external fixation, and many others.
In the early 1990′s, Dr. Acker began doing the Tibial Plateau Leveling Osteotomy (TPLO) after learning the surgical technique from Dr. Barclay Slocum, the surgeon who developed the procedure. In 2013, Dr. Acker taught the TPLO course for Synthes at the Veterinary Orthopedic Society meeting in Park City, Utah.
The Registry of Approved Continuing Education (RACE), a program of the American Association of Veterinary State Boards (AAVSB), certified Dr. Acker as an instructor for Total Hip Replacement courses. As a result, Dr. Acker has been an instructor eight times at the Kyon Total Hip Replacement course.
Dr. Acker's interest in orthopedics has resulted in multiple orthopedic patents, invitations to lecture worldwide, and the development of the Tate Elbow, as well as an ankle replacement system. Dr. Acker has taught numerous TATE Elbow courses. The TATE Elbow was developed and named after the Acker Family's yellow lab, Tate, who suffered from severe elbow arthritis.
Dr. Acker is not only the Owner and Medical Director of Sun Valley Animal Center, but is also the Co-owner of Jackson Animal Hospital. In 2015, Dr. Acker and Dr. Heather Carleton started a partnership to create an animal hospital in Jackson Wyoming that would offer both exceptional medical and orthopedic care to animals in the area. Dr. Acker performs orthopedic surgeries and is available for consults in Jackson on a monthly basis.
In addition to his impressive career, Dr. Acker is also the proud father of two daughters, Dr. Maggie Acker-Buck and Dr. Amber Acker-Sanborn, who he has mentored over the years and whom, like their father, both excel at orthopedic surgery.
Absolute BEST!!! Randy Acker is an Orthopedic Doggie God!!!
– Jessica A. Nelson