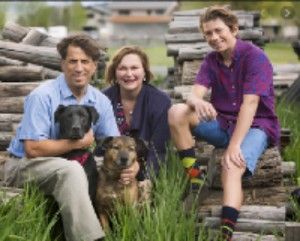 Dr Kathrin Luderer was born in Germany and at the age of two emigrated with her family to bucolic north central New Jersey. Unfortunately, frequent travel back to Germany made owning family pets other than a cat and a couple of gerbils difficult, so to satisfy her love for animals she started caringfor other people's pets. In the third grade she announced, "I'm going to become a vet" and never looked back.
After graduating from Tufts Veterinary School she practiced at a busy small animal hospital in Worcester, MA for several years. In 1998, driven by her passion to be closer to the mountains and seeking a major life change, she made the decision to move West. Having visited Jackson on a previous family ski trip, she chose Jackson Hole and landed her dream job in this beautiful valley. In 2001 she married longtime Jackson local Joe Larrow and in 2002 they welcomed a son Driscoll to their family.
For 22 years Dr Luderer worked at Spring Creek Animal Hospital helping to make it a busy and successful multi-doctor practice. Her friendship with Dr Heather Carleton began there, where they both enjoyed working together in the day to day controlled chaos that is veterinary medicine. For this next chapter of her veterinary career at Jackson Animal Hospital, Kathrin looks forward to going back to her roots working for a smaller locally owned animal hospital while continuing to provide the highest quality of veterinary care for her clients and their pets.
Having practiced for so long in this valley, Kathrin feels lucky to be a part of this amazing community. Even after so many years as a vet, she still enjoys small animal practice since no two days are the same and there is always something new to learn. When not working, she enjoys spending time outdoors hiking, skiing, biking, gardening and planning her next travel adventure because " the world is a book and those who do not travel read only one page."