Barb Zimmer – Office Manager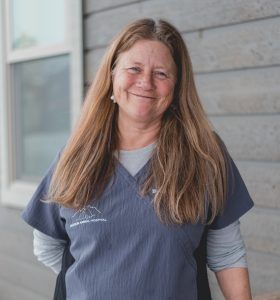 Barbara was born in Iowa City and is the oldest of five children. Her father was a career Army officer, which meant her family was transferred to different Barracks every two years. This constantly changing lifestyle offered Barbara many unforgettable moments and a series of lifelong friendships, as well as the opportunity to live in multiple states, Panama and Puerto Rico.
Barbara attended five elementary schools, and multiple high schools. During this time, Barbara was well known by her family and friends for bringing home abandoned animals; a kindness that reflected her parents' guiding principles of showing love and respect to all creatures.
Barbara first began working in the veterinary profession in 2010 at Animal Care Clinic as a veterinary technician assistant and front desk receptionist. In 2017, Barbara joined the staff at Jackson Animal Hospital and has been a wonderful addition. Her perpetually cheerful nature and excellent people skills make Barbara a pleasure to work with for both clients and staff alike.
When not working, Barbara is passionate about spending time with her two children, Mike and Christine, and her four adorable grandchildren. She also enjoys snowshoeing, hiking, kayaking and days at home with her cats, Hobbes and Herman.