Grace Drummond – Practice Manager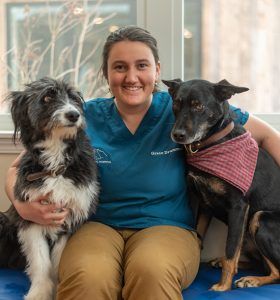 Grace grew up in Maine and attended the University of Vermont. During her time in school, Grace worked as a veterinary technician in the Intensive Care Unit at Vermont Large Animal Clinic. After graduation, she began exploring the West, first in Montana working at Bridger Veterinary Clinic, and then in Wyoming, calving out 950 head of cows while working full time as a veterinary technician.
Grace joined Jackson Animal Hospital in October of 2016 after meeting the Hospital's staff at a Spay/Neuter clinic on the Wind River Indian Reservation. While at Jackson Animal Hospital, Grace has taken a special interest in dental health and is now the lead dental technician. Grace also enjoys the rescue part of veterinary medicine, and actively participates in the four Spay/Neuter clinics that are hosted every year by the Animal Adoption Center. It is not uncommon to see Grace with several puppies or foster dogs in tow, especially after the clinics when homeless animals are routinely brought back from the reservation.
Grace currently lives in Victor, Idaho where she has an idyllic farm – inhabited by chickens, ducks, horses, dogs, one cat, a variety of foster animals, and an extremely tolerant boyfriend. When she is not caring for her multitude of animals, Grace can be found out skiing Targhee or hiking in the National forest.